Intro to Pistol Self Defense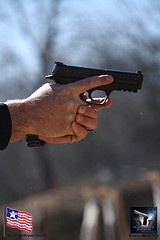 Cancelled
When: Saturday March 3, 2018
at: Cedar Ridge Range
7110 FM1863,
Bulverde, TX 78163
(830) 980-4424
Map Here
This course is designed for the beginner that wants to learn how to defend themselves with a pistol.
By the end of the course you will:
Understand how a handgun works
How to safely handle a firearm
Be able to hit targets at different distances
Have the confidence to use a handgun properly and safely
If you have any questions email me, Ben@ModernSelfProtection.com
Course starts at 9am.  We will be done before 1pm.  This is a half-day course that will get you started on shooting a handgun, get you ready to defend yourself, and help you understand what gun is for you.
See What other Students are saying here.
Equipment List:
Handgun
100 Rounds
Holster
Sturdy Belt
At Least 2 Magazines
Brimmed Hat
Ear Protection designed for shooting
Safety Glasses/Eye Protection
T-Shirts or Outdoor Style Shirts are recommended, no V-Neck Shirts or Tank Tops
Outdoor Style pants or shorts; Something to do work in that you can move around in, pants are recommended
Athletic Shoes or Boots are recommended, no open toed anything on the range
Food and Water for the afternoon
A Bag to carry everything down to the range, it's about 100 yards from the car
Most Importantly, A good attitude!
If you don't have a handgun or ammo, I can arrange to loan you a 9mm Glock and can also get ammo at the going rate for you.  Just email me if you need any help with anything.  I'll take care of you.
We will start with the basics of safety and move onto how the gun works.  Then you'll get an understanding of the fundamentals of marksmanship.  After that we will move at the the pace of the class.  Including multiple shots, defensive mind set, how to fix a malfunction, different methods of carrying a gun, how to draw, emergency reloads, and finally, if there is time, how to move while shooting. This course is designed for someone that hasn't taken any formal training and may or may not know how a firearm works.
You are going to have lots of fun and learn how to defend yourself! We are using a private range at Cedar Ridge.  This course is the only thing happening in the area.  There are real restrooms and a range house.
Cancelled

Cancelled
This course starts at the beginning.  You will learn everything you need to know to handle a handgun safely, even if you have never touched a gun before.
Starting the day with safety.  You will learn general practices of handling a firearm on and off the range.
Once you understand the safety we will move onto how a handgun actually works.  Not just which is the dangerous end, but what everything on the gun does and how to actually use all the things.
You'll get instruction and practice loading and unloading a gun and making sure it is unloaded.
You'll work in a safe environment on every aspect of shooting under an expert instructor.  We will be using dummy rounds (bullets that can't actually be fired) at first, so you don't have to worry about making any major mistakes because the guns will be as safe as they can be.  But we will do this while treating the guns as if they were loaded to engrain good safety habits.
After you are comfortable with all the things on your handgun we will start shooting.  It will be fun and exciting.  We will use metal targets for immediate feed back and have a fun time trying to hit targets at realistic distances as well as see how far we can go.
You'll learn something new with every round you fire in a fun and exciting environment with a bunch of other people just like you.
At the end of the course you will come away with a good understanding of how to use a handgun, the different kinds of guns, have a good time, and make some new friends.
Last part of the day maybe the most informative for you.  If you haven't bought a gun yet, that is perfect.  I'll let you shoot a bunch of different guns from my collection and you'll get to shoot other students' guns and learn what would be the best for you.
Sign up.  Space is limited do to range and safety.  And I need you to sign up early so I can have enough instructors on hand to help you learn more one-on-one.
Comments