Modern Self Protection Course Reviews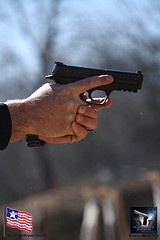 Please use this page to leave comments about a course you've taken from me.  Thanks in advance for any comment.
Stay Safe,
Ben
Here is what prior students have said:
Mike I
"There was a mixture of sound safety and defensive procedures, self defense discussions, and excellent safe live fire drills…I pushed my speed far past what I thought I could do…I would recommend the class to anyone."
Edwin
"…in general, I think this was a really fun, fast moving course, with useful specific techniques that I can now practice at home and a confidence builder on my skills as a shooter."
Kin
"… I didn't think I could shoot that fast and still be hitting the COM (center of mass)"
Chuck
"If you get a chance to train with Bob and Ben take it!"
FighterDoc
"This was a great course taught by great instructors… this is a course that I would take again.."
Dean H.
"I just wanted to take the time and thank you both for the amazing class in Ohio. It opened my eyes to many things and I feel I came out the other side of the class as a more skilled shooter, and more importantly, a more confident shooter."
Click here to read a complete review of one our course by another Blogger.
Read the rest in the comments below.
Comments