Everyone wants things this time of year and I'm no different. Some things are within our reach and some things we will never have.  Here are some suggestions of things you may want this season.  It's what's on my wish list.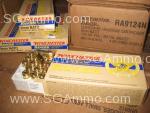 Ammo, everyone needs it, and everyone wants more.  You can never have too much ammo unless you are swimming.  I buy mine online at SGAmmo.com and LuckyGunner.com or any local store that has what I want for a fair price.  What kind of prices am I looking for?  9mm for around $250 a case of 1000 or under $13 a box out the door (don't forget tax and/or shipping).  5.56 I'm looking for under $7 a box of 20.  7.62×39 I want for a little less then 5.56, I like $6 a box of 20 or less.
I want a bunch of guns, like most of you I'm sure you have a long list.  Here's my short list:
I want a lever action in .460 S&W that will shoot the .454 Cuasul or .45 Colt just like the revolvers will, stainless steel, and with a scout rail.
I also need an X Frame Smith to go with it.  But I want one with a 6" barrel and the original screw-in compensator that Smith first developed for the .500 X Frame.
Guns that are on the market I want only a couple.  I want four different ARs.
The first one is a La Rue Tactical Predator.  Super light and accurate this rifle should do less then 1 MOA out of the box and I would love to test that.  La Rue caught my attention when one of my listeners sent me a picture of the test target that came with his rifle.  The 3-shot group at 100 yards measured .222 inches.  I'm thinking these rifles can shoot and are probably the best thing on the market for the $1800 price tag.
Next I want a Bushmaster Carbon 15.  Yes it's plastic but I want an ultra light AR and then put some cool trick stuff on it.  It needs:
I would also love a couple ARs in 308.
Smith and Wesson M&P 10 would be nice.  These are really cool.  They are a truly ambidextrous lower receiver with magazine release, safety, and bolt catch on both sides.  A couple have come through the gun shop and they are really light weight compared to other AR 10s on the market.
And the last AR I want is the new Ruger piston gun in 7.62 the SR762.  I've handled one and it feels great.  Nice balance and everything I'd want in a piston driven AR 10.  I just want to get out and see what it will do.
Other guns I want would include:
A Ruger Super Blackhawk in .44 Mag with a 3.75" Barrel.  We have one at the shop right now and it's a beast that just keeps saying "buy me!"
And last I need a new shotgun.  I want a 590A1 and the Blackwater series has just about everything I want.  I would just change out the speed feed stock for a Magpul just because I like the Magpul furniture better.
Stay Safe,
Ben